After the book The Mechanical Bratwurst was published in November 2011, I devoted a good part of my spare time to marketing it. Then I had to do an intensive re-training at my job. So I couldn't really find the peace and quiet to develop anything new until 2014.
I definitely wanted to revisit The Little Frankfurter, a small iron stove or warmer (see page 30 in The Mechanical Bratwurst), of which I was officially recognized as the inventor 25 years ago.
Over the years, I've produced and re-produced this model over a hundred times. Its design was too complicated though and the reconstructions were rather time-consuming. The need for a change kept haunting me and after much thinking, sketching and modeling, I came up with a solution.
The little Frankfurter had shrunk to a teapot warmer, but at the same time the structure had been considerably simplified – in other words, reduced to the max.
It was still able to bring a bit of the charm of old-fashioned fireplaces into the world of central heating. The Patent Office also still saw it as the "first portable hearth with a vertical handle on the side, above the hotplate." (see page 30 in The Mechanical Bratwurst)
Finally, it dawned on me how to automate the time-consuming parts of the manufacturing. The challenge was to design and construct these production aides. That was in 2015.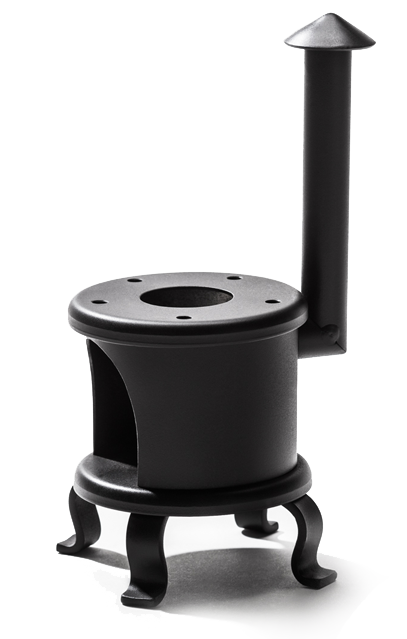 In the meantime, I've developed a press and automatic milling machine along with the necessary assembly, saw and bending devices.
Admittedly, all these mechanisms have little to do with the sophisticated tools used in modern manufacturing, but are closer to abstract mechanical art á la Jean Tinguely. But with their help, all the different iron parts can reliably be turned into the Little Frankfurter, and within a reasonable timeframe.
<div style="position:relative;height:0;padding-bottom:56.25%"><iframe src="https://www.youtube.com/embed/Dg01ru4fCUI?ecver=2" width="640" height="360" frameborder="0" style="position:absolute;width:100%;height:100%;left:0" allowfullscreen></iframe></div>
All that's missing to fire up sales is a corresponding marketing campaign for a Frankfurt souvenir. Assuming the marketing would work, someone else would have to oversee the production. Just building little stoves? That's not really my thing.
There are too many other inventions that someone forgot to make.
They're waiting for me to discover them.